Dongfeng KR 8x4 280hp GVW 30 Ton 18m3 To 26m3 Dump Truck
Dongfeng KR 8x4 280hp GVW 30 Ton 18m3 To 26m3 Dump Truck
Dongfeng

Hubei

30 day

1000 units / year
Dongfeng KR 8x4 dump truck is standard medium/long distance road driving style, the design of chassis emphasizes the overall fuel economy and efficient of light-load transportation on composite roads.
Long endurance and high speed vehicle stability are also the focus of dongfeng KR 8x4 dump truck`s design.
The design of dongfeng KR 8x4 dump truck`s cab emphasizes the comfort of long-term driving and the resting space for temporary or long-term parking; the shape further reduces wind resistance and fuel consumption.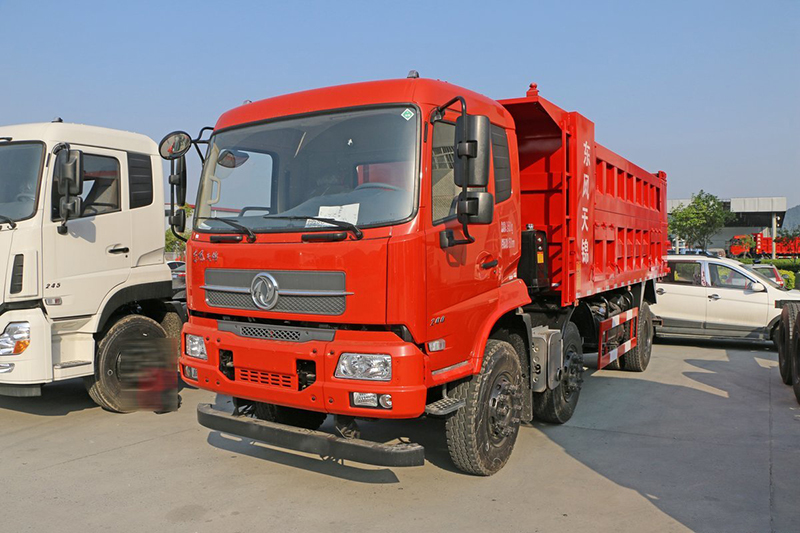 The Dongfeng KR is a genuinely flexible vehicle for distribution and on-highway light to middle construction. It's adaptable to suit almost any transport assignment. But one thing that all of the trucks we deliver have in common is premium profitability.

No matter how you equip your Dongfeng KR, and whatever you put it to work as, the trucks and services ensure low operating costs. They'll help you increase your productivity and keep your business in good shape.

Tipper, tanker, Crane? The Dongfeng KR can be configured any way you want it.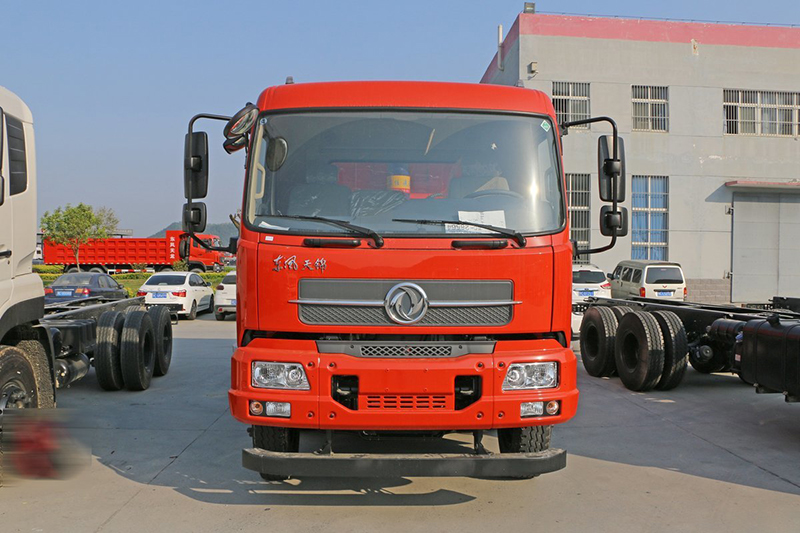 1. Fuel is precious. And expensive. So we help you get the most out of every drop, fuel saving strategies that make a big difference to your bottom line.

2. Via premium and reliable design you've got a maximum uptime guarantee. That means your truck will always be available when you need it.

3. We`re obsessed with safety. The fewer accidents you have, the more time your truck (and the driver) is on the road. It's also brimming with safety features to protect the truck, the driver and other road users.
4. Equipped with advanced intelligent technology of dongfeng commercial vehicles, LDWS, FCWS, TPMS, BSD, panoramic imaging, fatigue monitoring, AEBS, ACC, LKA and other technologies, guaranteeing the safety of vehicles, goods.

5. Interior colours and materials have been meticulously chosen. The dash curves elegantly around the space. And the extra-wide windscreen gives you a commanding view of the road.
6. All the switches ensure the functions you use most are close to hand and plenty of compartments keep things like paperwork organised.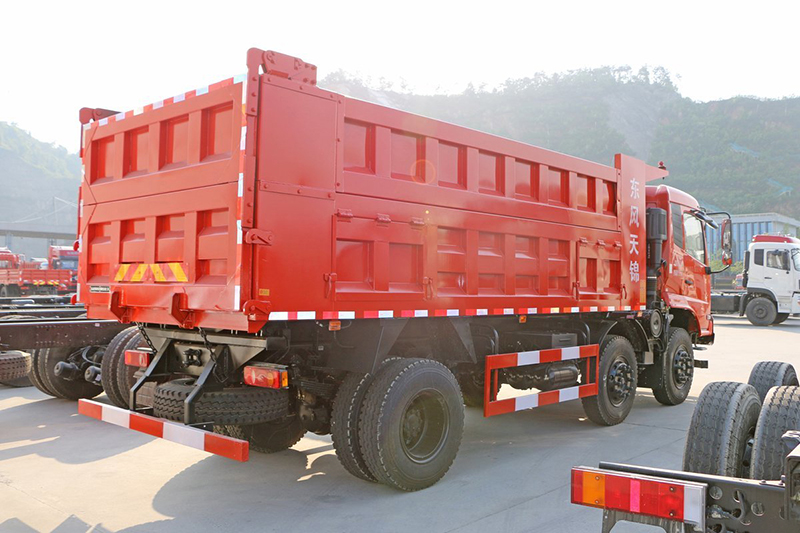 CHASSIS ASSEMBLY


DFH3310B-KQ3V
DFH3310B-KQ6V
DFH3310B-KQ9V
Cabin

VR Bunk Cabin

Airbag Seat

Engine

YC6L280-50

Transmission

10JSD120B

Front Axle

5T x 2

Rear Axle

10T x 2

5.143

Frame

280x80x(8+4)

Suspension

8/8/10+8

Tire

11.00R20

Fuel Tank (L)

350 steel

Wheelbase (mm)

1850+2800+1350

1850+3100+1350

1850+3500+1350



Box Dimension (mm)

Box volume (m³)

Over Dimension (mm)

DFH3310B-KQ3V

6000×2350×1300

18.33

9000×2550×3160

6000×2350×1500

21.15

9000×2550×3160

6200×2350×1300

18.94

9200×2550×3160

6200×2350×1500

21.86

9200×2550×3160

DFH3310B-KQ6V

6500×2350×1300

19.86

9480×2550×3160

6500×2350×1500

22.91

9480×2550×3160

6800×2350×1300

20.78

9780×2550×3160

6800×2350×1500

23.97

9780×2550×3160

DFH3310B-KQ9V

7100×2350×1500

25

10080×2550×3160

7300×2350×1300

22.3

10280×2550×3160

7300×2350×1500

25.73

10280×2550×3160

Chassis


Urban driving style, reducing driving fatigue caused by frequent start & stop; greater and wider vision increases safety. The lower chassis allows for a larger load capacity and lowers the center of gravity. The economic speed is low, which satisfies the urban driving speed range and reduces working fuel consumption.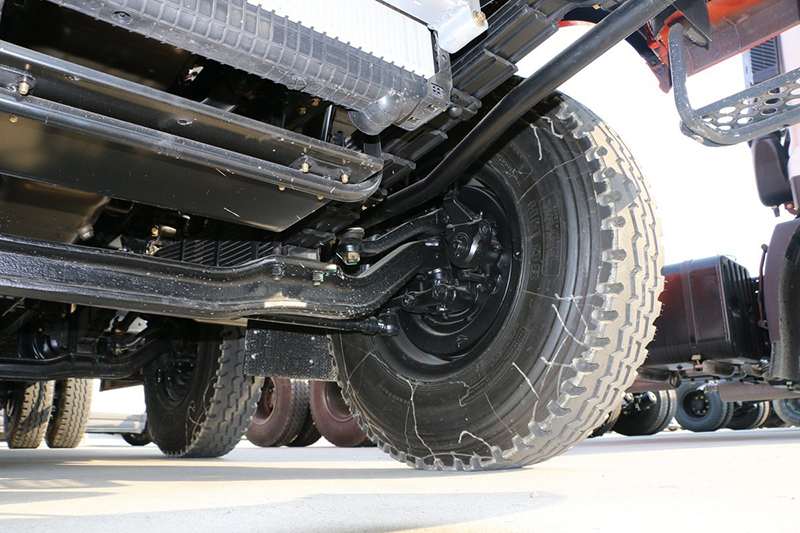 Protect panel of the chassis provides strong protection for engines, intercoolers and radiators.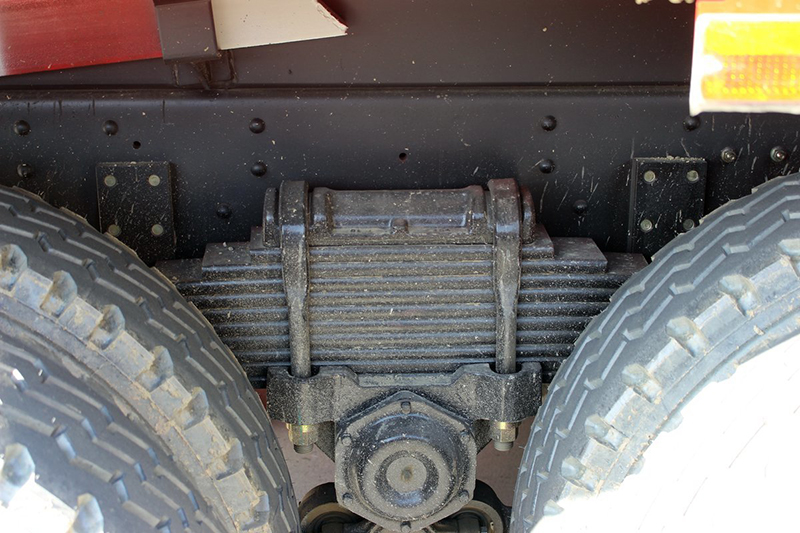 Hidden gas reservoir is safer. All lines are properly routed inside the frame, which is convenient for maintenance and not messy.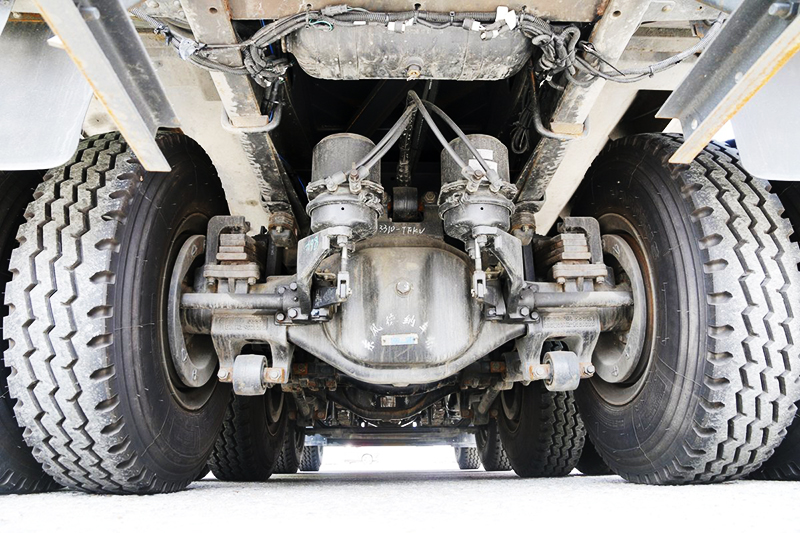 Use Dongfeng DANA 10-ton rear axle. The air chamber is above the axis so it is not easily to be damaged. The spare tire is placed behind the air chamber.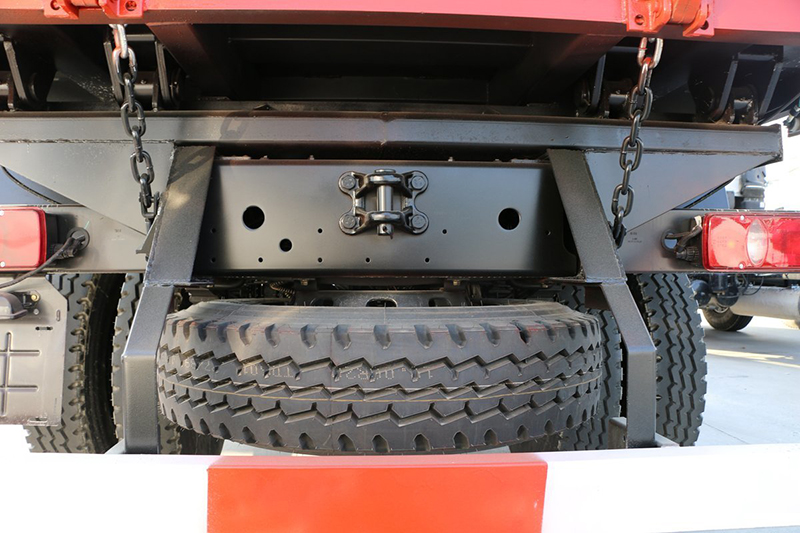 Chassis is equipped with trailer pin.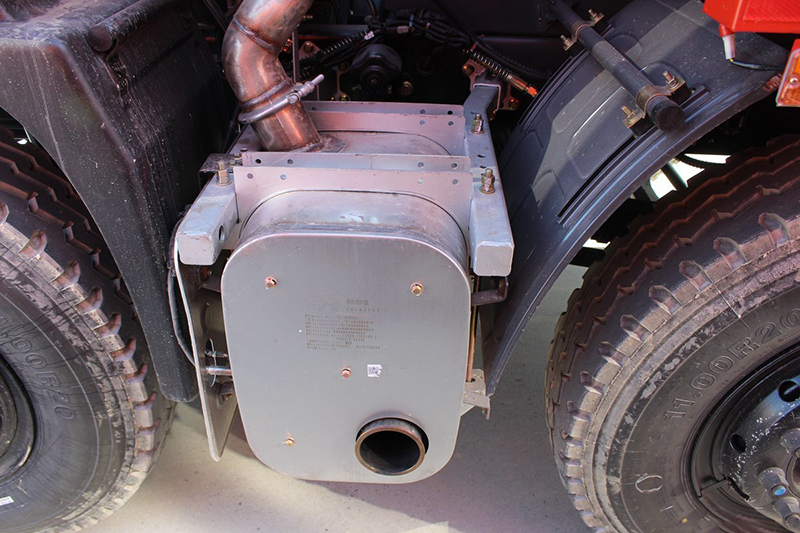 Aluminum-alloy exhaust funnel with stainless steel felt on both sides and aluminum-alloy pedals on the upper for easy climbing and maintenance.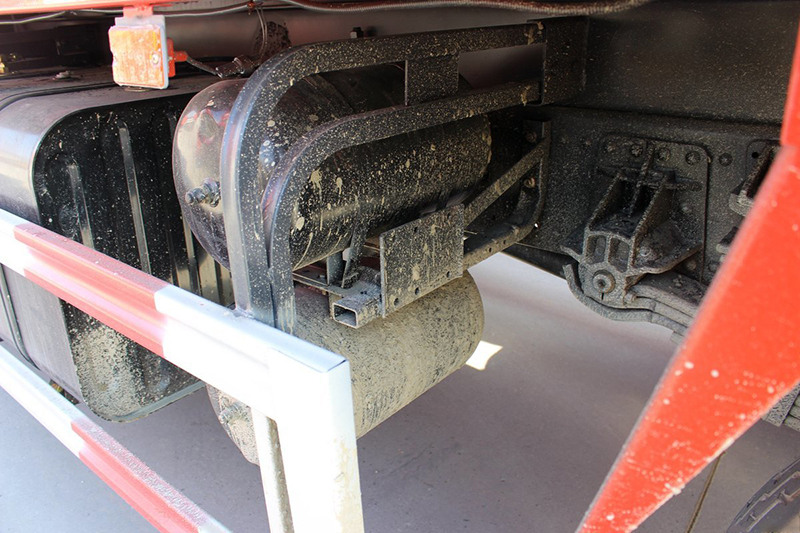 The fuel tank, storage battery and air reservoir are protected by side protection, and the ground clearance is further improved to ensure safety and stay away from damages.
Cabin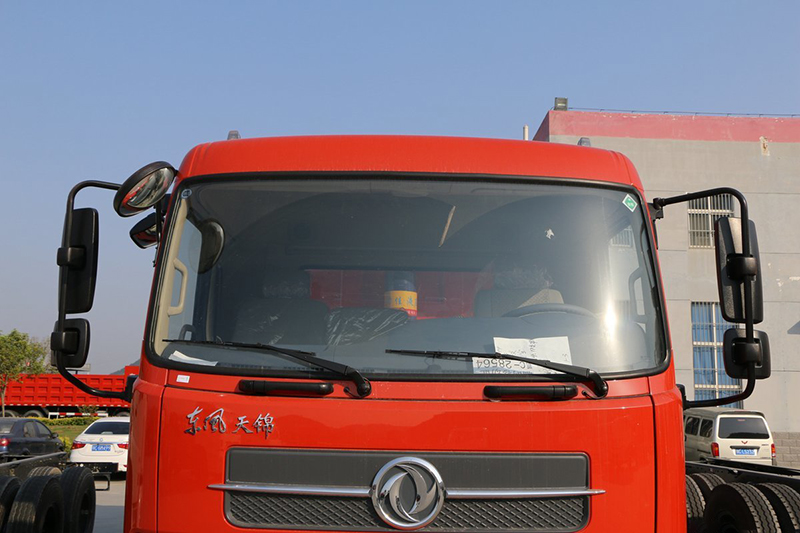 Large front windshield curved glass, the view is very wide.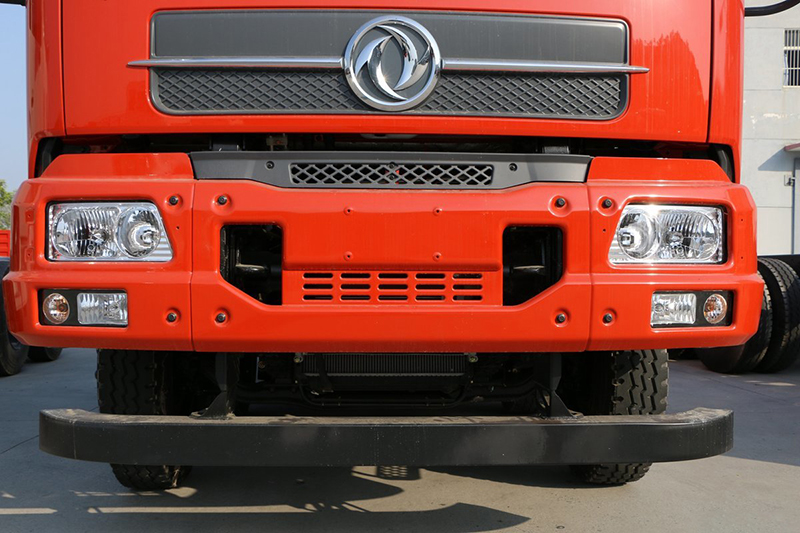 Delicate and strong cab, meet any severe working conditions.The lower part of the strong anti - collision rod to ensure safety.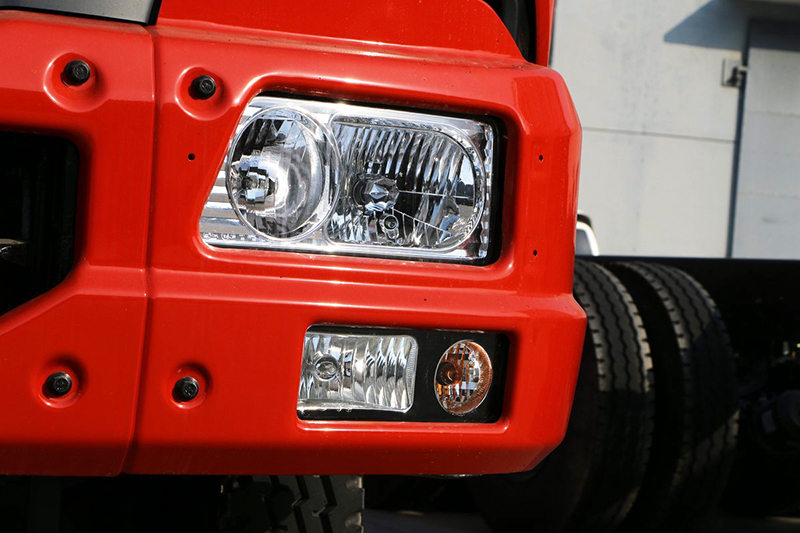 Beautiful combination of lights to create good lighting in any environment is very clear.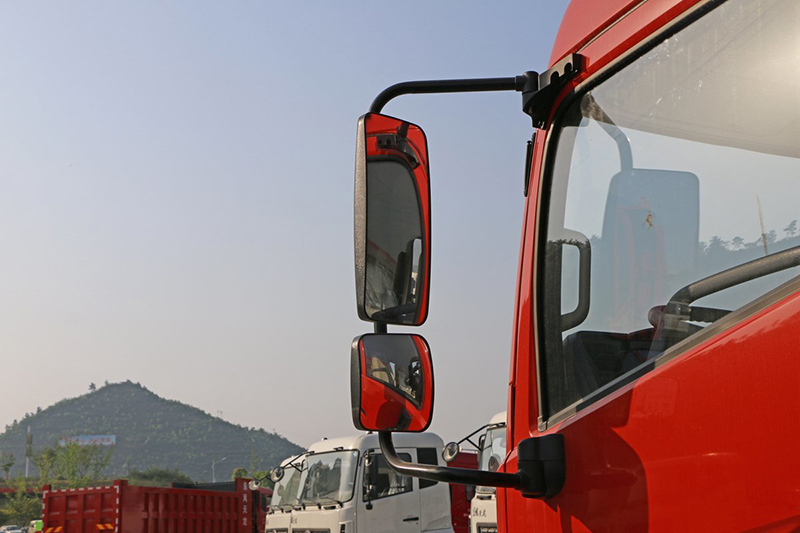 Surface panoramic mirrors, viewing Angle is close to 180 °, all-round to ensure driving safety.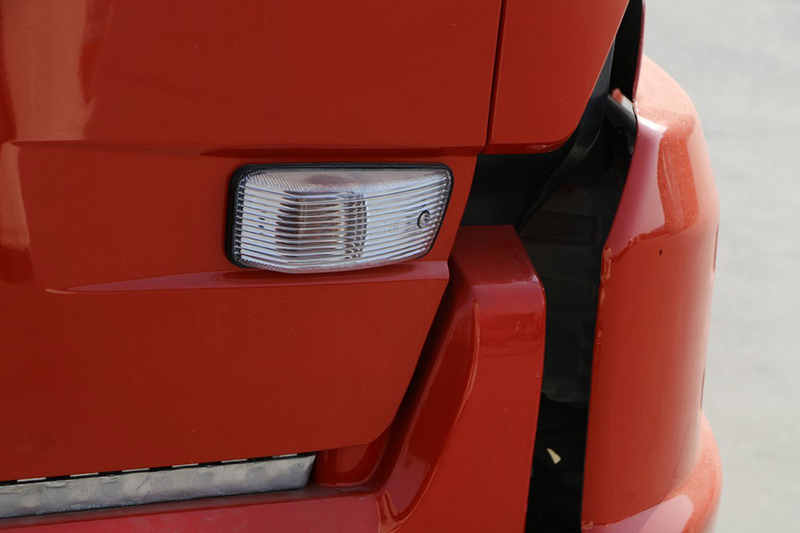 Door integrated display profile light, beautiful and durable.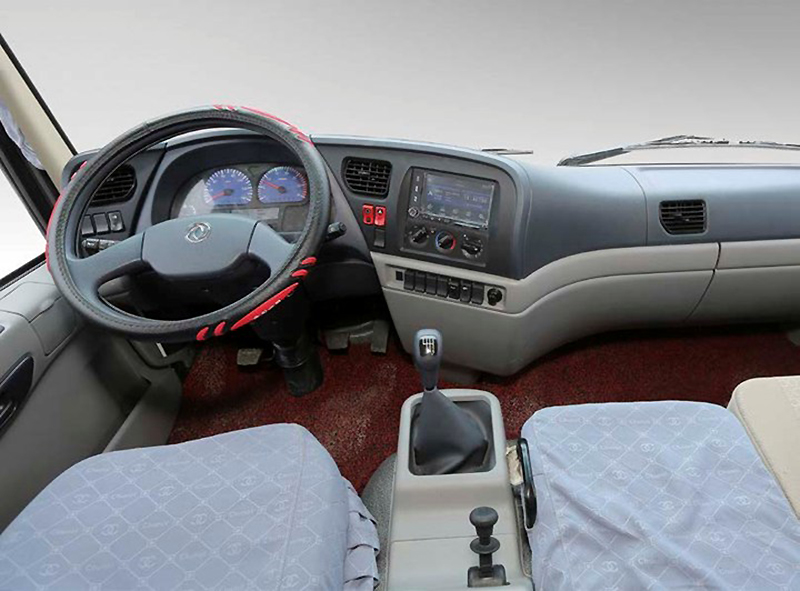 Curved dashboard and with good visability. All instruments and controls are easy to read and reach.
Box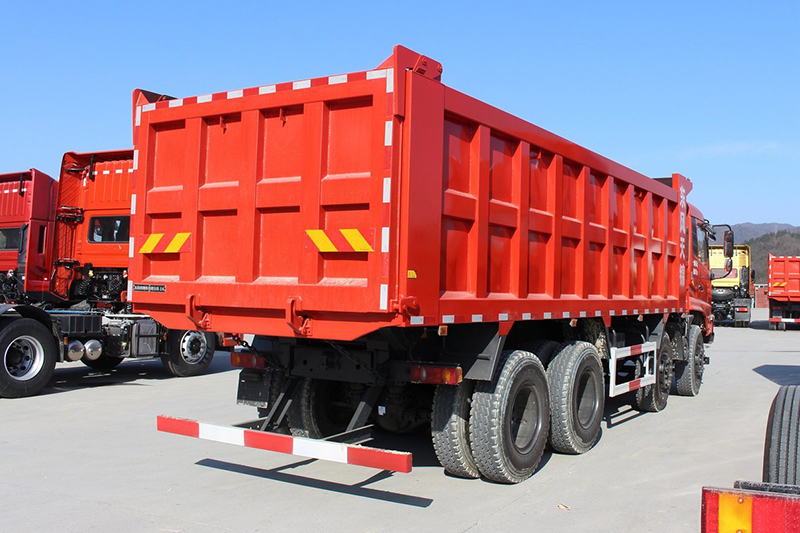 The compartments body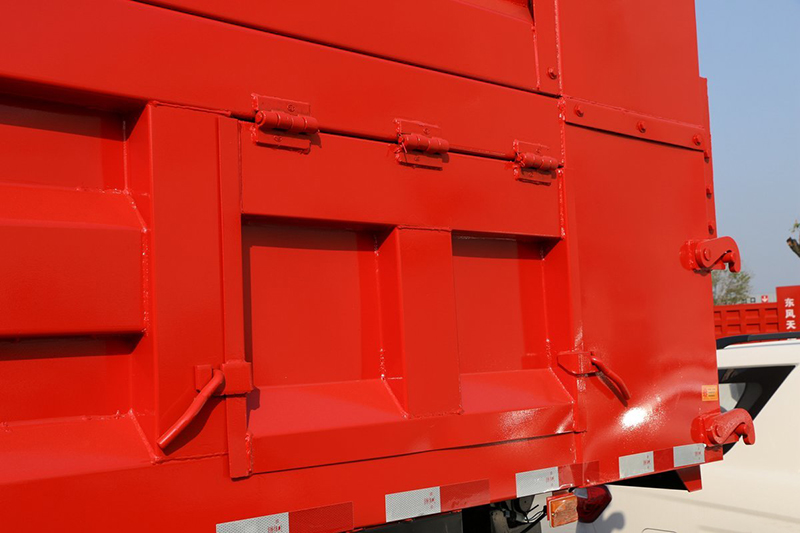 The side door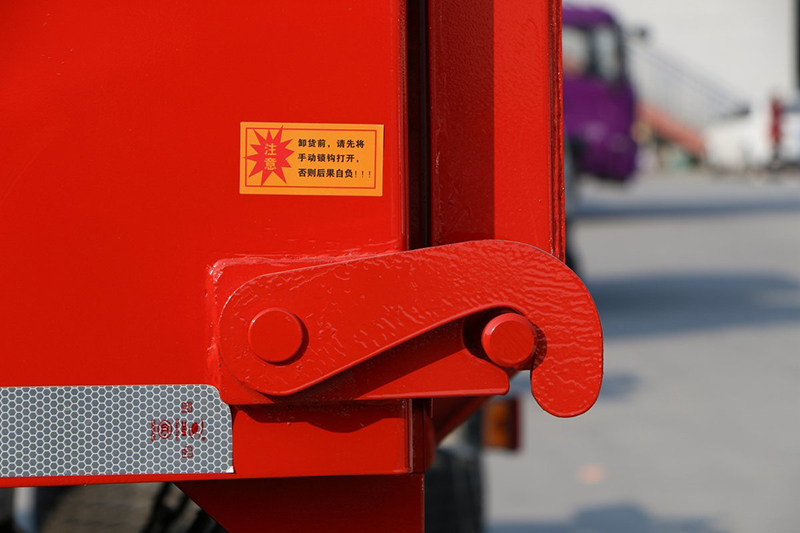 Rear door lock mechanism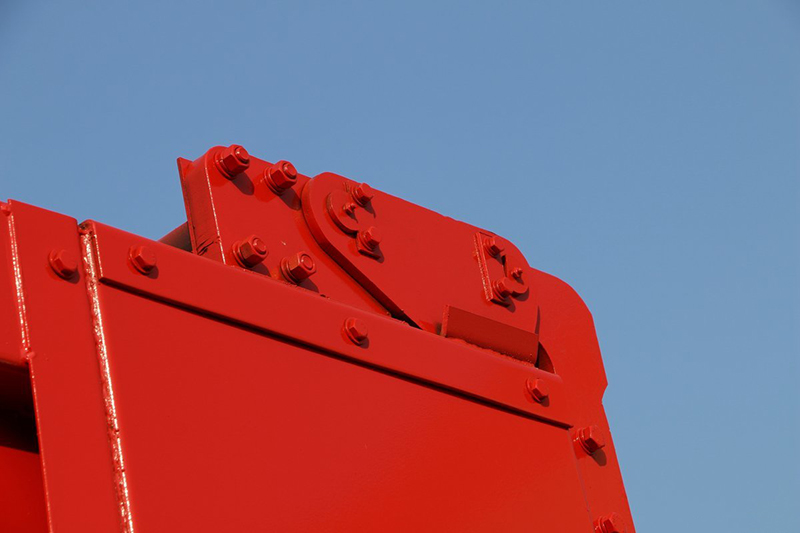 Stern door turning mechanism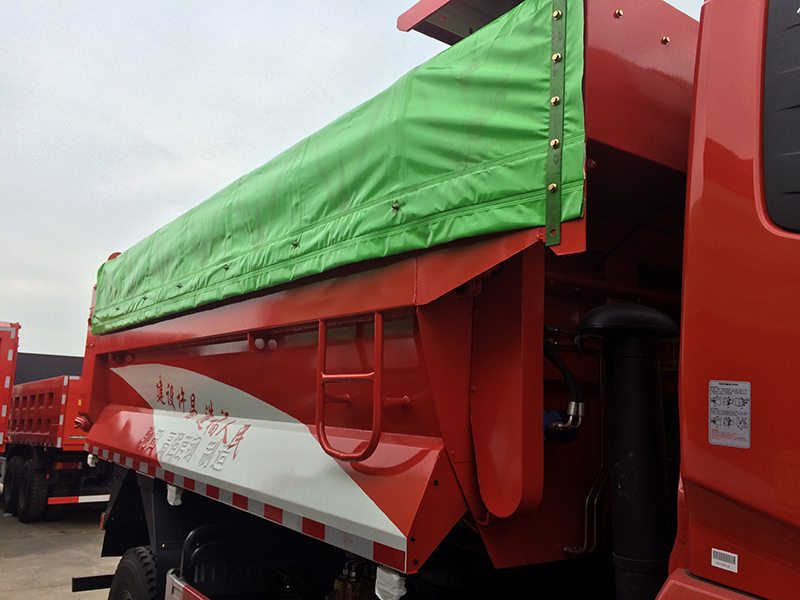 Optional: cargo boxes with electric tarpaulins or hydraulically sealed containers, further complement the safety and environmental protection of urban operations.