Dongfeng KC 6x4 GVW 33 Ton 15m3 To 20m3 Dump Truck
Dongfeng KC 6x4 GVW 33 Ton 15m3 To 20m3 Dump Truck
Dongfeng

Hubei

30 day

1000 units / year
Dongfeng KC is our toughest, strongest, robust truck.
Dongfeng KC have high ability of transporting large loads in rough conditions without getting bogged down.
Dongfeng KC is a safe and comfortable workplace for drivers ensure productivity and safety.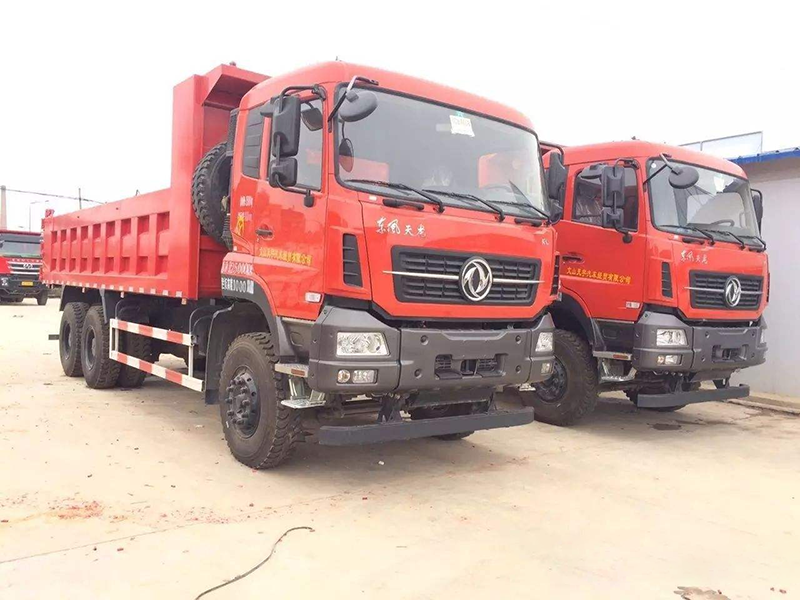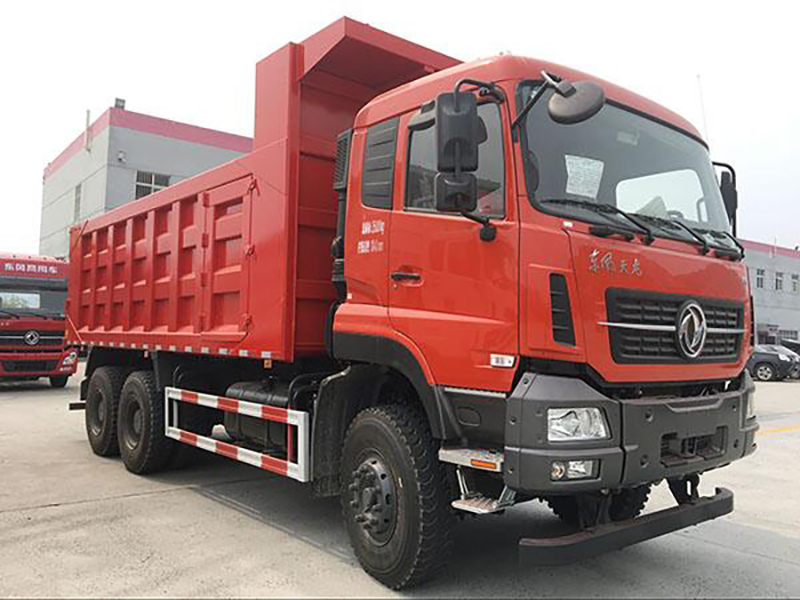 Dongfeng KC is our toughest, strongest, robust truck. high ability of transporting large loads in rough conditions without getting bogged down. A safe and comfortable workplace for drivers ensure productivity and safety.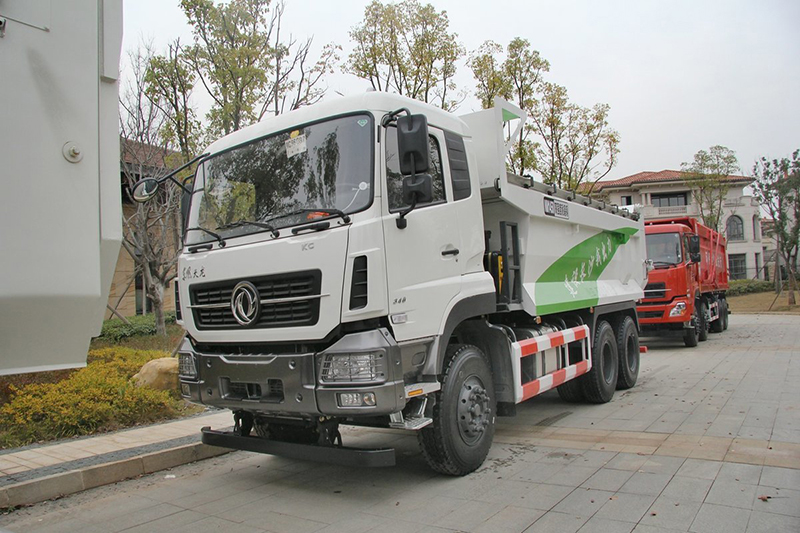 1. Minimum downtime. Minimal delays. Every detail there because it needs to be. No extra investment
2. The exposed fasteners on the corner bumpers and body panels not only increase the truck's robust look, also you can quickly replace panels yourself.
3. The high-grade 3 plates steel bumper is tough. So tough, you could drive into a pile of rubble and barely notice any damage and also easy for replacing.
4. THE SKID PLATE : Driving off-road can be hazardous for your engine. Dongfeng KC has an plate that protects the engine sump, hoses and cooler. And if you work in a dusty environment, it reduces dust vortices under the truck.
5. A construction driver often in and out the cab. The low entry step makes that quicker, and its anti-skid design makes it safer. don't worry if mud sticks to your windscreen – just climb up the front of the cab to clean it.
6. Cabin: The pure, clean design helps you focus on the job.all the convinient design, they just make your workday better. the black-brown inner coulor is less sensitive to stains, making it perfect for the construction site. The instrument cluster puts vital information front and centre, and less frequently used controls further away. Flexible switches let you choose the functions you want closest to the steering wheel.
7. The Front Underrun Protection System is designed to protect car passengers by crumpling backwards and absorbing some of the force, and also prevent vehicles or person getting under the vehicle in an accident.
8. Construction driving can hit your body and your productivity. our power assisted Steering makes it effortless, so you can drive safer and smarter. And clock off less tired.
9. Disturbances caused by crosswinds are greatly reduced, making driving more comfortable.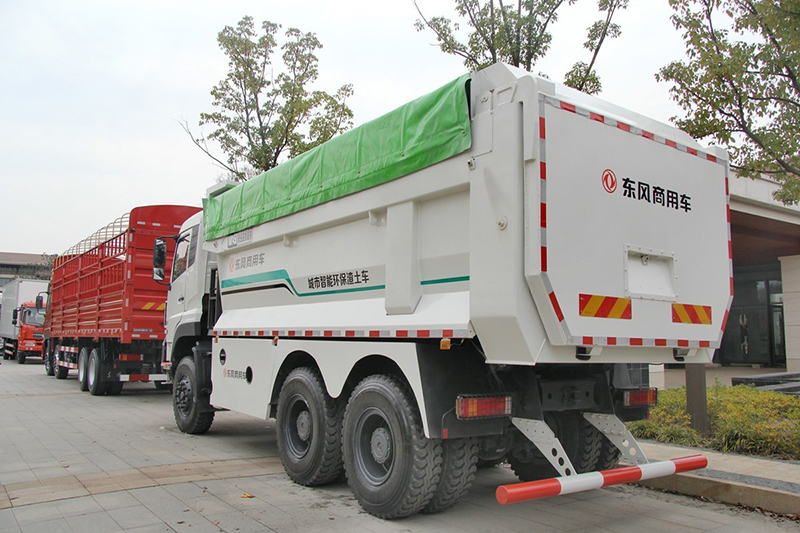 CHASSIS ASSEMBLY




DFH3250A1-K26Q

Cabin

KC Bunk Cabin

Engine

ISL9.5-340E53A

Transmission

10JSD160

Front Axle

7T

Rear Axle

13T x 2 hub reduction

5.22

Frame

300x80x(8+4)

Suspension

9/13

Tire

11.00R20

Fuel Tank (L)

400 steel

Wheelbase (mm)

3800+1350

Standard

Air Conditioner
Airbag Seat
Central Lock
Power Window

Option

Colour
BBM
12.00R20 tire



Box Dimension (mm)

Box volume (m³)

Over Dimension (mm)

DFH3250A1-K26Q

5400×2300×1200

15

8250×2550×3450

5400×2350×1500

19

8250×2550×3450

5600×2300×1200

15.5

8450×2550×3450

5600×2350×1500

19.74

8450×2550×3450


Chassis

Urban driving style, reducing driving fatigue caused by frequent start & stop; The vision is bigger and wider, which improves safety. The design of the vehicle emphasizes superior load bearing quality and efficient workability. The economic speed is low, which satisfies the urban driving speed range and reduces working fuel consumption.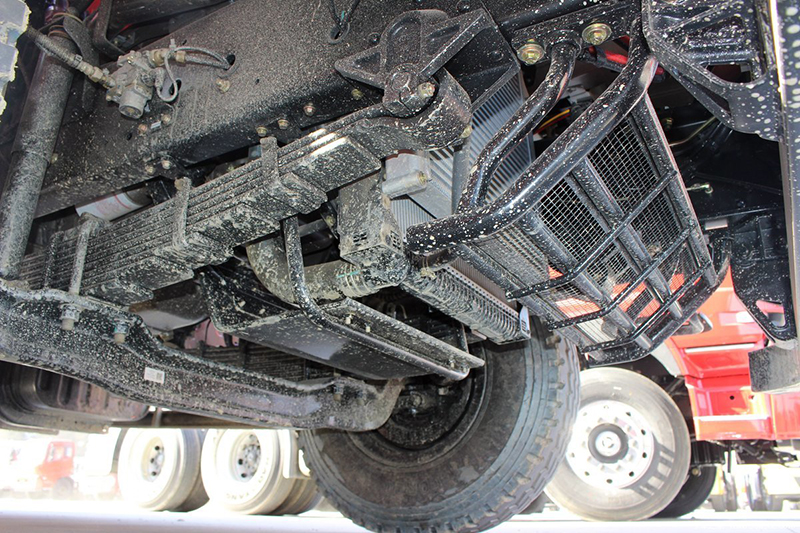 Protect panel of the chassis provides strong protection for engines, intercoolers and radiators.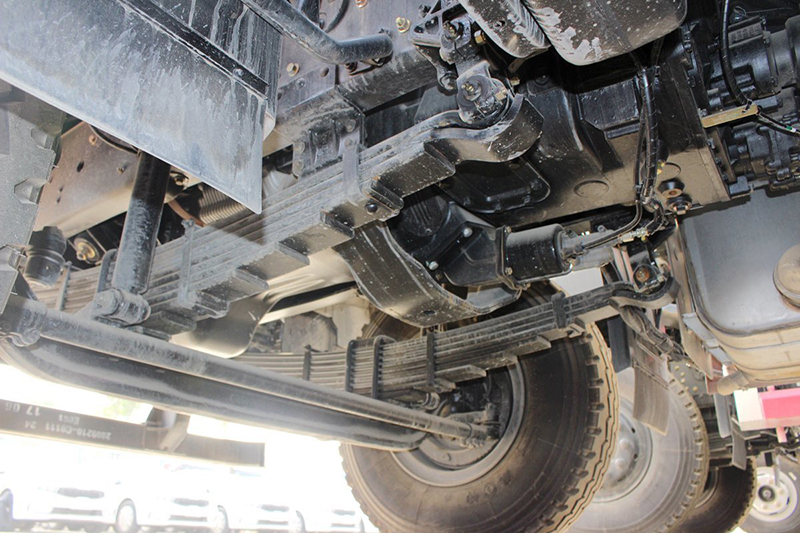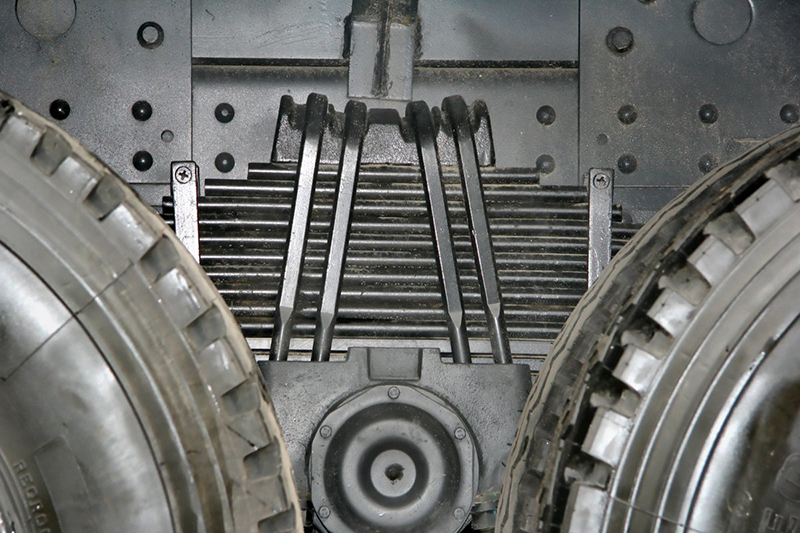 Front suspension leaf spring has hydraulic damping system,which not only meets the shock absorption requirements for high load but also improves driving comfort. Rear suspension leaf spring.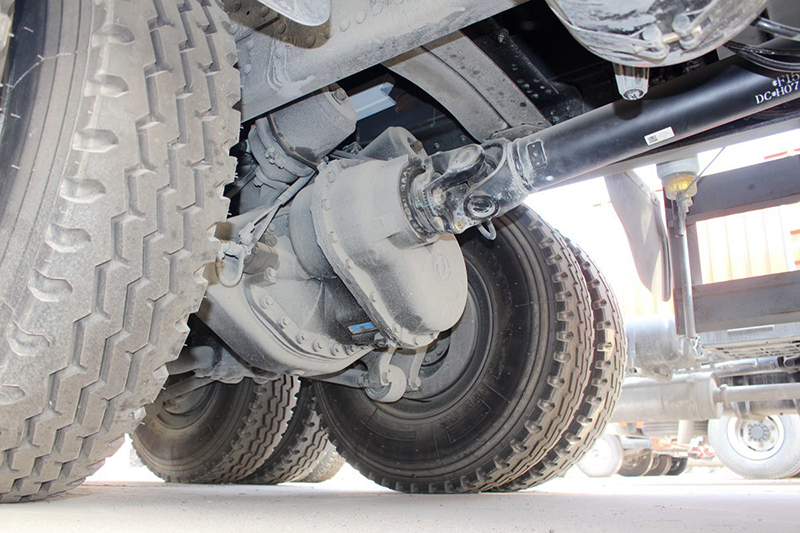 Hidden gas reservoir is safer. All lines are properly routed inside the frame, which is convenient for maintenance and not messy.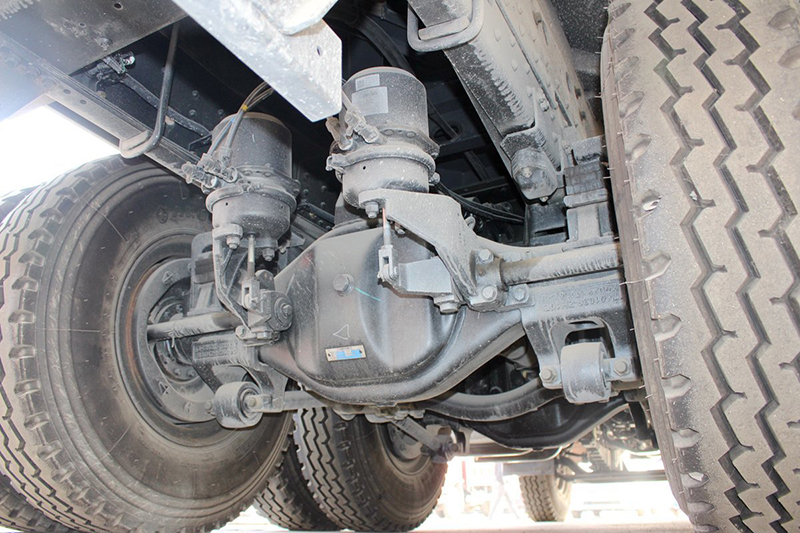 Use Dongfeng DANA 10-ton rear axle. The air chamber is above the axis so it is not easily to be damaged. The spare tire is placed behind the air chamber.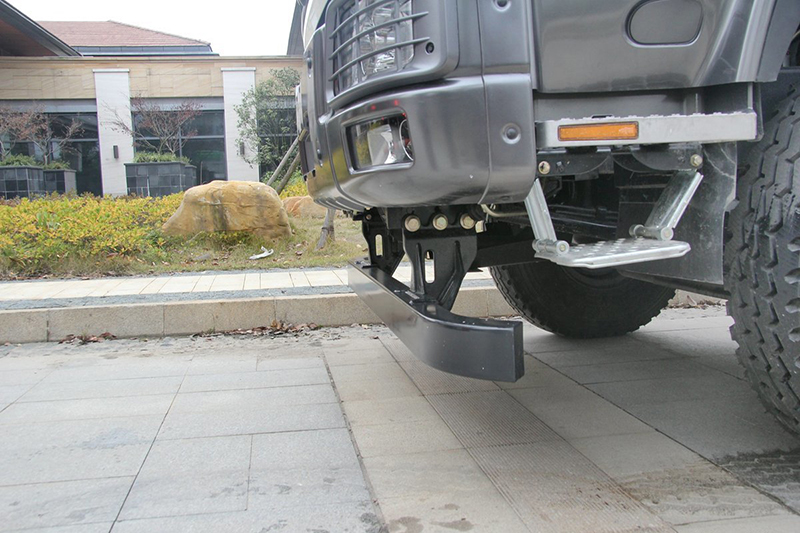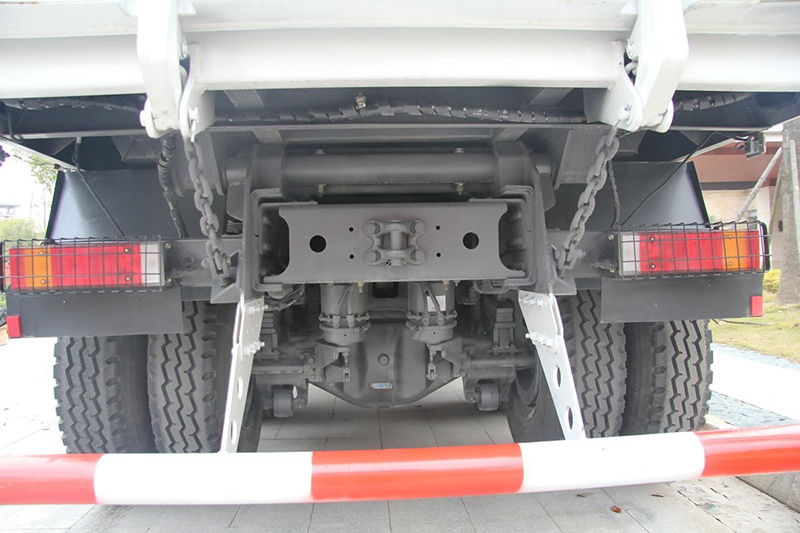 Chassis is equipped with trailer pin. Front and rear lights with protective net to prevent impact damage.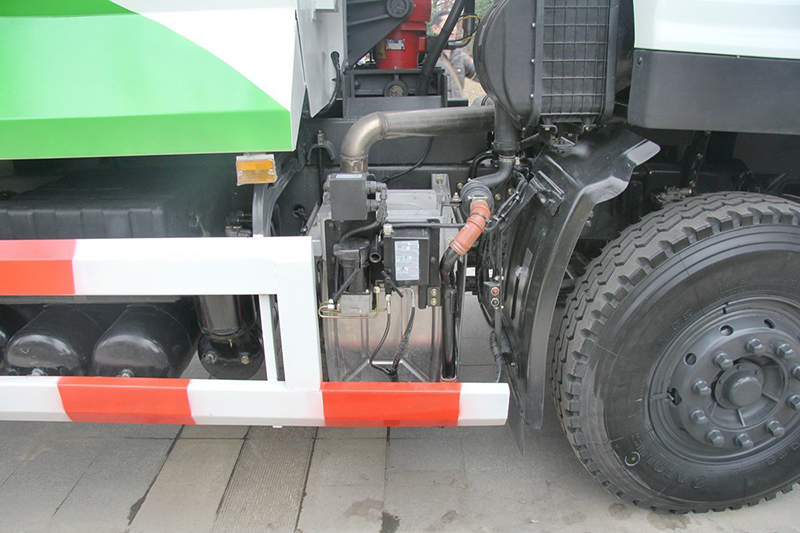 Aluminum-alloy exhaust funnel with stainless steel felt on both sides and aluminum-alloy pedals on the upper for easy climbing and maintenance.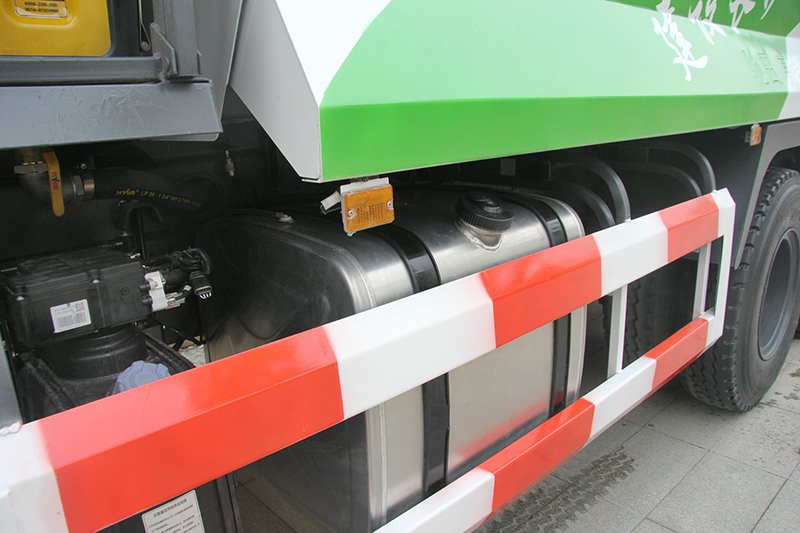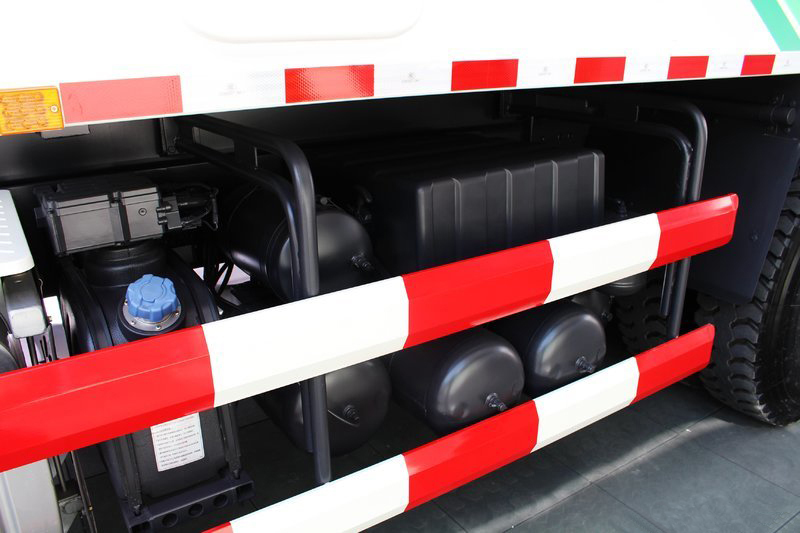 The fuel tank, storage battery and air reservoir are protected by side protection, and the ground clearance is further improved to ensure safety and stay away from damages.
Cabin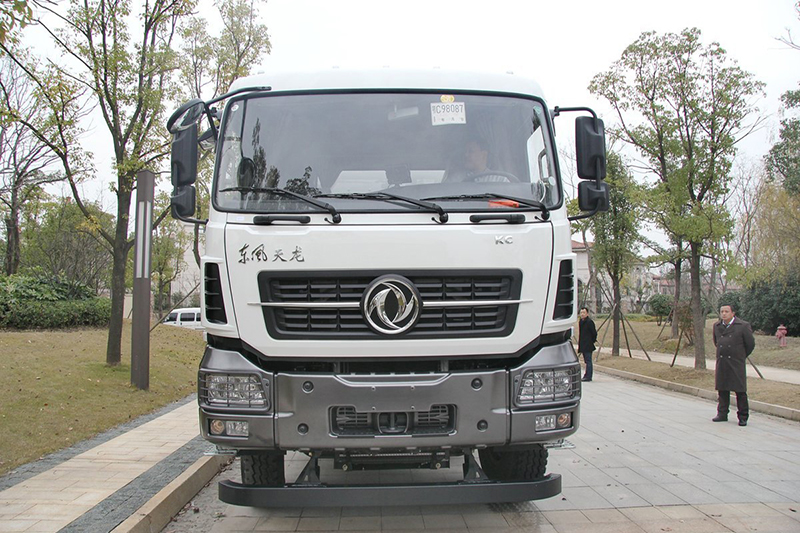 Large front windshield curved glass, the view is very wide.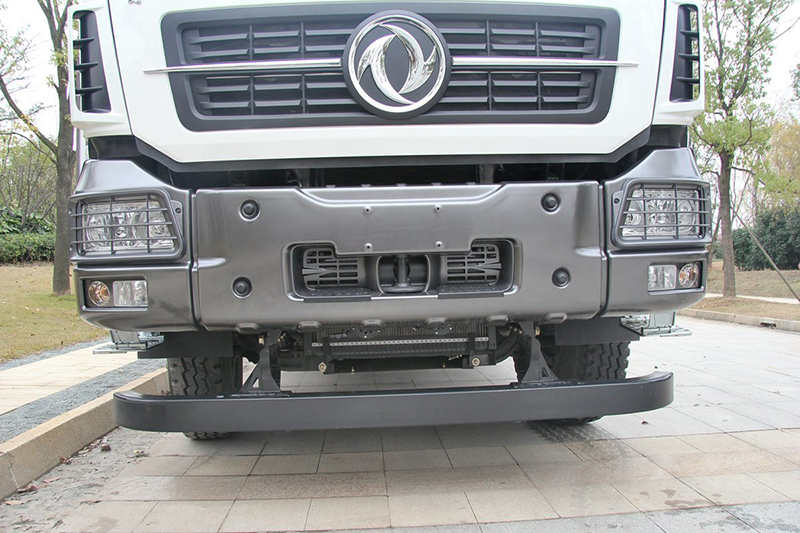 Delicate and strong cab, meet any severe working conditions.The lower part of the strong anti - collision rod to ensure safety.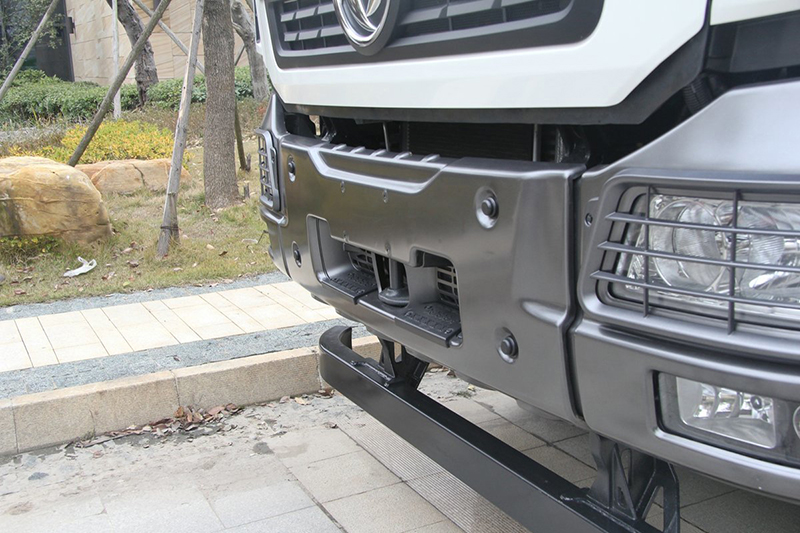 Beautiful combination of lights to create good lighting in any environment is very clear.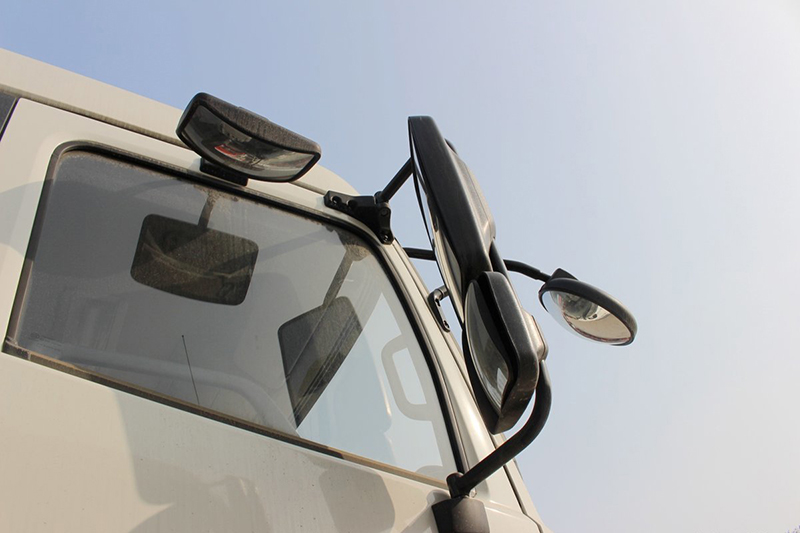 Surface panoramic mirrors, viewing Angle is close to 180 °, all-round to ensure driving safety.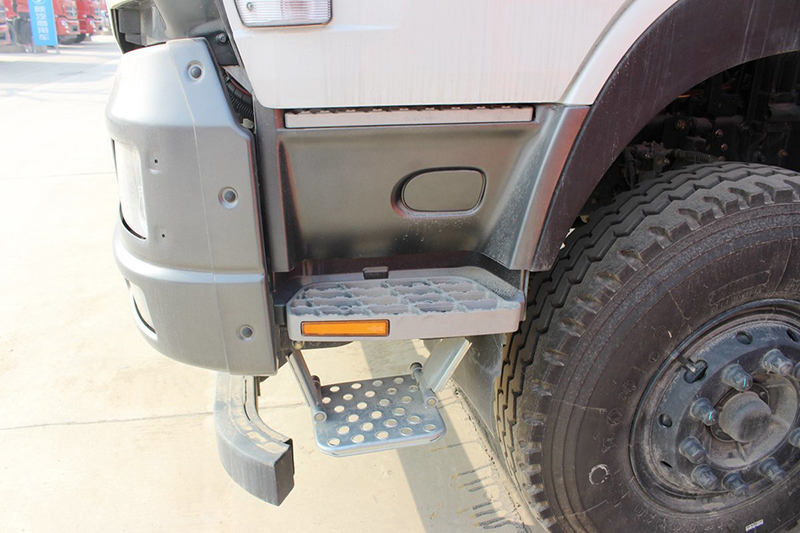 Hollow pedal, drainage and anti - fouling are very strong, but also to prevent damage caused by impact.
KC Bunk Cabin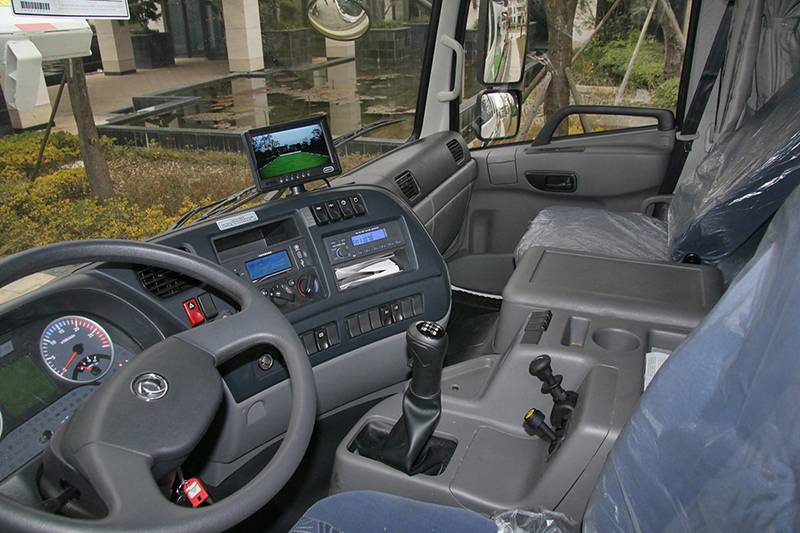 Curved dashboard and with good visability. All instruments and controls are easy to read and reach.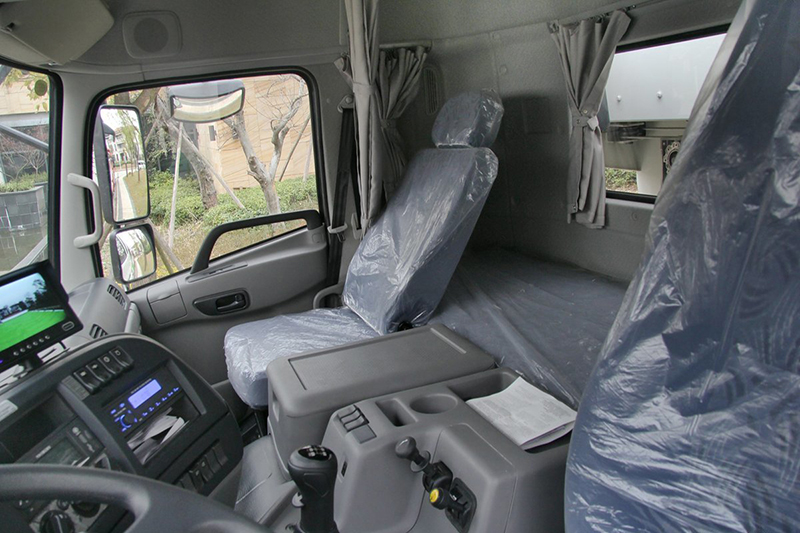 The 630mm sleeper meets the needs of daily rest, entertainment and storage.
Box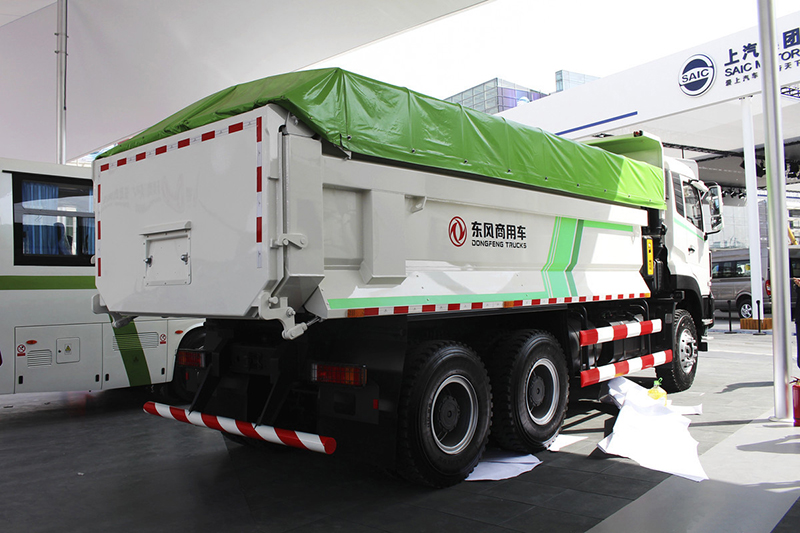 Electric telescopic muck type container, suitable for urban engineering operation, safer and cleaner.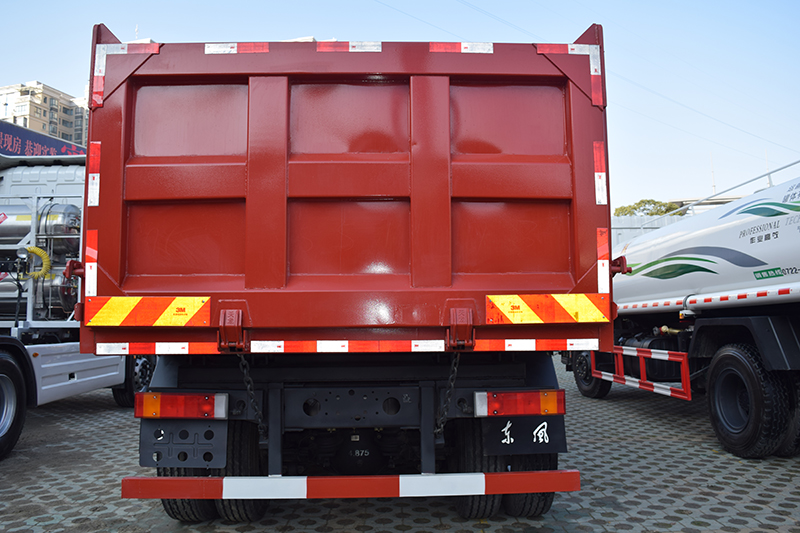 Mining engineering box, suitable for large infrastructure construction and mining, bearing capacity is higher, more durable.